It's FINALLY time to get cozy and there's no better place to start than at home! I am so happy to be sharing the colors of Fall with a Harvest Haven Fall Home Tour, hosted by Summer from She Leaves a Little Sparkle. Summer has gathered up a group of fabulously creative bloggers and I am more than honored be included among them. If you're just coming over from my friend Becky from The Other Side of Neutral WELCOME! She creates a Fall tablescape like no one's business all on a budget.
Fall From Door
Fall eludes rich wood tones and there's no better place to decorate that my parent's home. (Right now our home is is torn up with a kitchen renovation. There's always something!). Let's start with the front door. The rich dark wood door beckons for bright colors. My sister Jenni is a florist so I don't need to go farther than Wisteria Flowers and Gifts for a gorgeous Fall wreath. We added fresh purple mums and pumpkins from our favorite market Power's Farm Market.
Now come on in! On any given Fall day a fresh arrangement of hydrangea grace the dining table.
We changed out the art above the server, add dried wheat and a collection of delft blue ginger jars for a sophisticated traditional look.
Fall in the Kitchen
When it comes to entertaining, I love setting the table with these autumn inspired dinnerware. For a peek into last years Fall table settings click here.
In the kitchen, the cherry oil painting stays all year round but we recently added copper accents. Some of these metallic treasures are from our family travels to Europe and some are new. Blending the old with the new… It's difficult to tell them apart. Wheatgrass and pumpkins are scattered throughout the shelves giving this dry bar area a warm collected feel.
A wooden and silver turkey platter serves and a container for a fall harvest arrangement on the island.
Fall Canning
September marks the begining of canning season. We head out to the Farmers' market for fresh local peaches, peppers, tomatoes, apples, and rhubarb. We can all weekend and make fresh pies. If you've seen my stories on Instagram then you've seen my mom's famous pantry where she keeps all her culinary supplies.
Rustic Farmhouse Furniture
This year we added some new furniture to family room. This large room with long walls needed large pieces. A tall rustic sideboard and large oval mirror take center stage with two large iron twisted wall sconces anchoring the grouping.
On top of the sideboard a mixed metal grouping of mercury glass vases from Wisteria Flowers and Gifts in various shapes and sizes add shimmer and shine in contrast to the matt finished wood.
Kilms, pillows and poufs
For added texture and pattern play I purchased dusty colored patterned kilim pillows, poufs and cozy throw blankets from HomeGoods and Marshall's. On top the coffee table, I added silver/copper and Carrera marble/wood pumpkins. The pillows are guarding my Turkish tapestry boots that are almost 15 years old. The are no two pairs alike and I had to chase Rosie more than once to get them back!
Two Monarch side chairs flank the sideboard and add extra seating for football games and Sunday night family gatherings. The dark rustic wood frame and a soft grain cloth fabric compliment the family rooms decor while keeping with a traditional style.
Mudroom Magic
In the back hall mudroom a large iron framed mirror reflects light and creates the illusion of a larger space. An original oil painting of a farm field displays autumn's vibrant colors.
Taking a page from Ralph Lauren a large glass and leather strapped container holds mixed garden greens. Rich toned turkish carpets add color and interest below. Burnt orange velvet down filled pillows add more texture and warmth.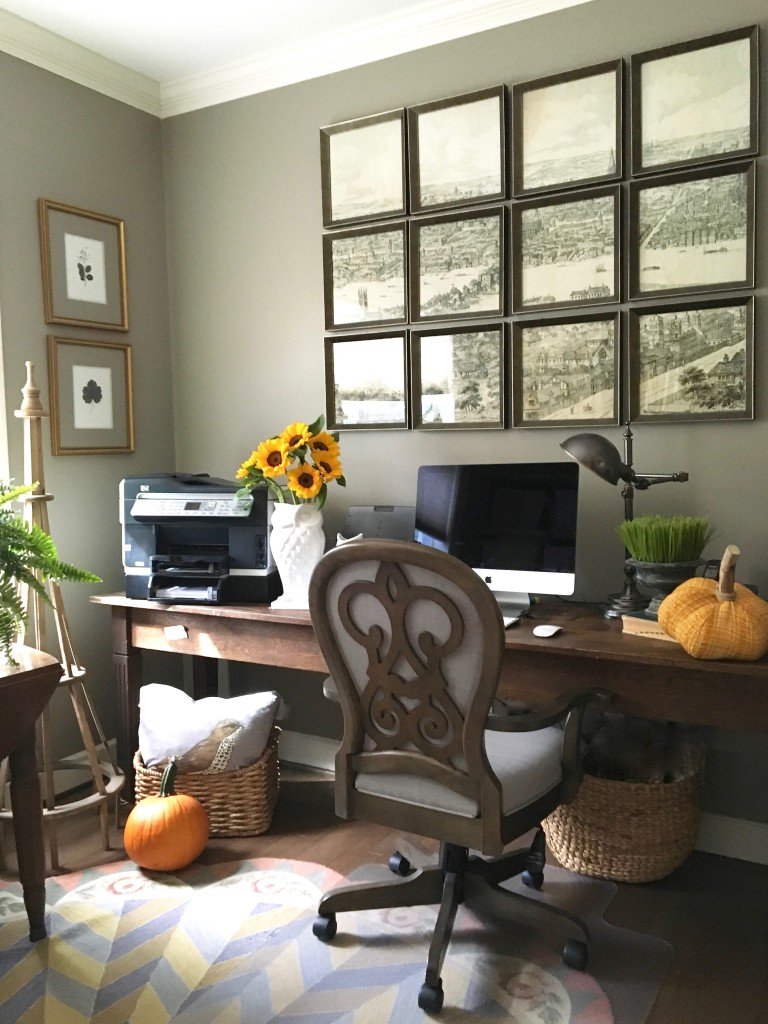 Home Office
In the back office I added fresh sunflowers in my favorite white owl vase, a mix of real and fabric pumpkins and a new chair that I discovered on my tour of the Raymour & Flanigan Headquarters a few weeks back. Finding a stylish home office chair is not easy and I knew I had to get the Kasari Home Office Chair once I saw it! Its gray washed wood works perfectly with the vintage tool bench turned office desk.
My slight obsession with white owls continues. I just can't resist them! This little smart owl was waiting for me on the clearance shelf last year at Michael's for $3.
Fall Outdoor Bar Cart
Just the other day I was consulting a client who owns an antique store downtown. I stopped dead in my tracks when I discovered this 100 year old bird feeder he was selling. You cannot recreate this kind of age and beauty. The metal flags are rusted to perfection! So I decided to think outside the box and take my bar cart theme outside for Happy Hour!
A burlap draped table holds the decorated feeder with pumpkins, mums, sunflowers, and other fall decor. A variety of wines, champagnes and snacks are displayed inside. No paper cups here. I mixed my parents vintage gold and glass bar set with new tall Moroccan glasses from World Market. Let the outdoor Fall Home Tour Garden party begin!
For inquiries about purchasing this feeder please email me thru my home page…..
Thanks so much for swinging by my part of our Harvest Haven Fall Home Tour! There is more autumnal goodness later on this week so don't go far. Please stop by and see what my talented blogger friends have in store for you. Their links are below. They've opened up their gorgeous homes in hopes to inspire your perfect Fall decor. Now I'm off to plant some mums……
xoxo Amie
Don't forget to stop by all the bloggers on this Fall Home Tour! We wouldn't want you to miss anything and please be sure to follow along on my
Meme Hill Instagram page
. xoxo
I have partnered with Raymour & Flanigan and received products in exchange for this post. All expressed opinions are 100% mine. Amie Freling